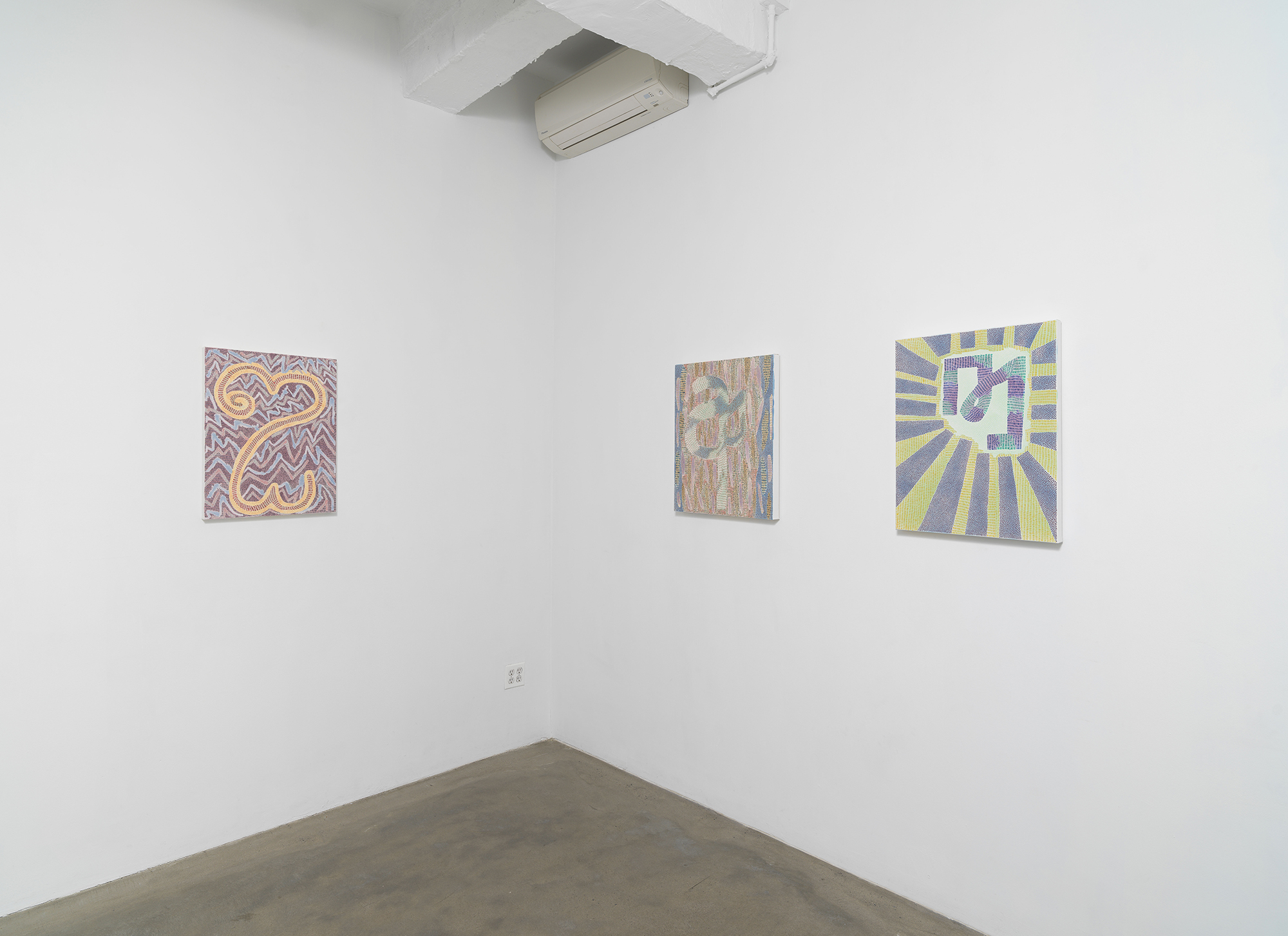 Kristen Lorello is delighted to announce the second solo exhibition at the gallery of paintings by Nadia Haji Omar. The exhibition continues the artist's ongoing research of the intersection of language and abstract painting and will include six new 24 x 20 inch paintings on canvas. A full-color exhibition booklet is available.
Drawing from her ongoing research of Sinhalese, Tamil, and Arabic script, the artist has structured each new composition according to the form of a linguistic character: an Arabic letter, two Tamil letters, one Tamil number, and two Sinhalese letters. These characters hover in the center of the picture plane, hinting at the aural dimension of script: "Aa," "Na," "Sawd," "Ha," "Ai," and "Onru." Tiny dots and lines create an infinitely repeating pattern that travels inside and outside of each character, suggesting a highly mobile relationship between language and territory.
As the artist explains,
The act of making these works is meditative, patient, and of course imperfect. Nothing is taped or traced, frequently revealing human error and inconsistency. The finished work may form the sound of the letter it depicts, reverberating. Or it may fall silent, becoming part of the surroundings, camouflaged and dissolving.
A site-specific mural project by Haji Omar will open this spring at Providence College Galleries, Providence, RI, as part of the Galleries' "On the Wall" series. The artist is creating a large-scale work inspired by centuries-old Sinhalese and Tamil poems inscribed into the Mirror Wall of Sigiriya, an ancient palace found in the Central Province of Sri Lanka. As curator Jamilee Lacy writes of Haji Omar, "Her work investigates sociopolitical subjects such as hybrid culture and the transformation of language, and visually addresses philosophical and physiological challenges of the human condition."
Nadia Haji Omar received her MFA from the School of Visual Arts in 2014, and her BA from Bard College in 2007. She has had solo exhibitions at Kristen Lorello, NY, and Saskia Fernando Gallery, Colombo, Sri Lanka. Group exhibitions include Plus One, curated by Melanie Kress, Sideshow Gallery, Brooklyn, NY [Old / New] Psychedelic Providence, curated by Jamilee Lacy and sponsored by Providence College Galleries, Tiger Strikes, Asteroid, Chicago, IL, and You Don't Bring Me Flowers, curated by Quang Bao, 68 Projects, Galerie Kornfeld, Berlin, Germany. She currently lives and works in Warren, Rhode Island.